Faron Salon treats its stylish international clientele here as well as local professionals to a variety of services to suite their life style and needs. Looking good has never been more important. At Faron Salon individual specialized treatment will keep your hair looking its best.Students with ID will receive 10% off haircuts on Mondays, Tuesdays, and Wednesdays.
College Students – Click HERE to visit the TUN website.
Faron Salon does not accept outside gift cards and gift certificates. Faron Salon will only accept gift cards and gift certificates purchased at Faron Salon. We apologize for the inconvenience. We also specialize in curly hair!  We carry MOROCCANOIL, Rene Furterer, and Tigi products. Click top photo for more…
Haircuts
Creating a great look starts with the right cut. To see the right shape in every head of hair and realize it. The result is a cut that goes beyond the style of the time to a look that is timely and, above all, we offer a balanced combination of high-style fashion-cuts; coiffure and unique formulas to color, hi-light, perm, and esthetic straighten all types of hair.
| Faron | $85 |
| --- | --- |
| Master Stylist | $65 – $70 |
| Stylist | $50 – $58 |
| Children (under 12) | $30 |
---
Styling
| Blow-dry | $50 and up |
| --- | --- |
| Flat, Curling, Hot Rollers | $75 |
Clients will receive a complementary 10-Minute Blow Dry with all treatment services. For a full professional blow dry after the treatment service, client will also be booked in for a blow dry charge. Some hair types, such as curly, heavily textured, and relaxed hair cannot be effectively blow-out in 10 minutes. In such cases, it is better to leave the hair to dry naturally as we cannot offer our complimentary blow dry, as this will affect the integrity of your hair. Of course, if you wish, your proffessional blow dry will make you look fabulous!
Color and Highlights
Hair coloring begins with a thorough consultation with our professional colorist. Together we discuss your hair's history, present condition, and the best color match for your particular skin tone. Then very precisely, we apply natural-based color to create the optimum look for your hair, actually leaving it healthier than it was before. At the consultation we will discuss which individualized approach is best for you. If for any reason you are dissatisfied with any service, please contact our reception desk within five business days of your appointment. We are committed to your total satisfaction and will be glad to re-service you. If you are not fully satisfied with a product, please return it with a receipt within 14 days and we will issue you a Faron Salon credit for future use.   Semi-permanent color – This is a great way to start if you have never been colored before. New Semi-permanent colors and subtly enhance your best features and keep your hair looking vibrant for 4-6 weeks. Highlight – We deliver the know how to make color predictable and the talent to make it magic. There are more shades of blonde than one can imagine. Getting the right shade, with just the right amount of hi-light takes experience and a keen eye, whether you're looking for a big change or a glint of summer sunlight, we take the time to determine the blonde you aspire to be.
| One Process Color | $100 and up |
| --- | --- |
| Regrowth Application | $65 and up |
| Corrective Color | Based on Consultation |
| Spot Highlights | $105 and up |
| Partial Highlights | $125 and up |
| Partial Highlights & Lowlights | $145 and up |
| Full Highlights | $145 and up |
| Full Highlights & Lowlights | $175 and up |
| Men's Color Camo | $45 and up |
Conditioning
Deep Conditioning Treatment
$35 and up
Redken Chemistry system
$35 and up
Gloss or Glaze
$35 and up
Keratin Complex Treatment (Formaldehyde free)
Based on Consultation
Keratin Express Blowout Keratin Repair Treatment
$165 and up $80 and up
 (Click here for more information)
---
Hair Straightening
---
Perms  
A wide variety of perming techniques are available to suit your specific needs. First you'll consult with our experts to determine which is the right one for you, then we'll create a naturally beautiful look for you.
Special Occasion
| Updo | $75 and up |
| --- | --- |
| Updo wedding Day | $120 and up |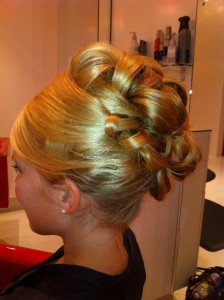 ---
Nail Services – Temporarily Unavailable 
| Manicure | $22 |
| --- | --- |
| Pedicure | $43 |
| Color Change (Hand) | $9 |
| Color Change (Feet) | $14 |
| Shellac Manicure | $41 |
| Shellac Pedicure | $61 |
---
                                                 Before and After Photos