Our goal is "Wow, you look fabulous."
Our stylists have many years of experience and we are consistently updating techniques, exploring trends, and looking for creative solutions to enhance your life, health, and appearance. For women and men, we offer haircuts, styling, color, highlights, conditioning, hair straightening, perms, manicures and pedicures. Faron Salon is the place to get ready for your special occasion. Whether it's a wedding, prom, anniversary, first date or job interview we can help you land him, her or it!
Our environment is both modern and welcoming. We offer free wifi, coffee, tea, fresh (baked in house) cookies, and outdoor "bistro" seating. We look forward to building a long-term relationship with you and strongly believe that taking care of yourself is not a luxury, but is essential for a healthier mind, body and spirit. We are your Cambridge salon!
If you would like to inquire about a salon appointment click BOOKING button below, or call 617-354-3313.  First time at Faron Salon? Call to book. Thanks.
The Boston Globe front page featured Faron Salon.


CLICK HERE to read the full article.
Channel 5 Boston TV featured Faron Salon in May 2017.
Click on the photo to watch the video.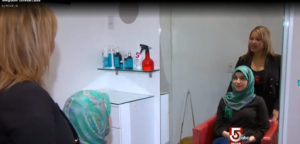 First Time in Porter Square!
Faron Salon is proud to announce it's new addition, the "Private Room", a room created to cater to our female-only clientele  This room will be designed to accommodate women who require private hair services, such as women who wear hijab or any one who would like their own private space. It will be available Monday – Saturday within usual salon hours and by appointment only. Feel free to call for more information or to book an appointment with us!          Thank you,  FARON 
Click here to see a photo of our beautiful Private Room.